The Leaze, Marsh Baldon is a stunning new build home in Oxfordshire, built in traditional style by Greencore Construction, with brick cladding and a handsome combed wheat thatched roof. The rear half of the building is clad with local durable larch weatherboarding, and recycled rubber Eco slates on the roof.
Built to Passivhaus standards
From the outside it could be mistaken for an older building, but this house enjoys all the spectacular energy efficiency of a brand new building. It's a truly sustainable contemporary home built to Passivhaus standards and constructed with sustainable materials. It achieves this using Greencore Construction's unique hemp/lime panels, their Hempcell system. Following their philosophy in building, it has been created using totally natural materials. Included in the spec, the house has energy efficient timber windows from Danish timber window firm Rationel.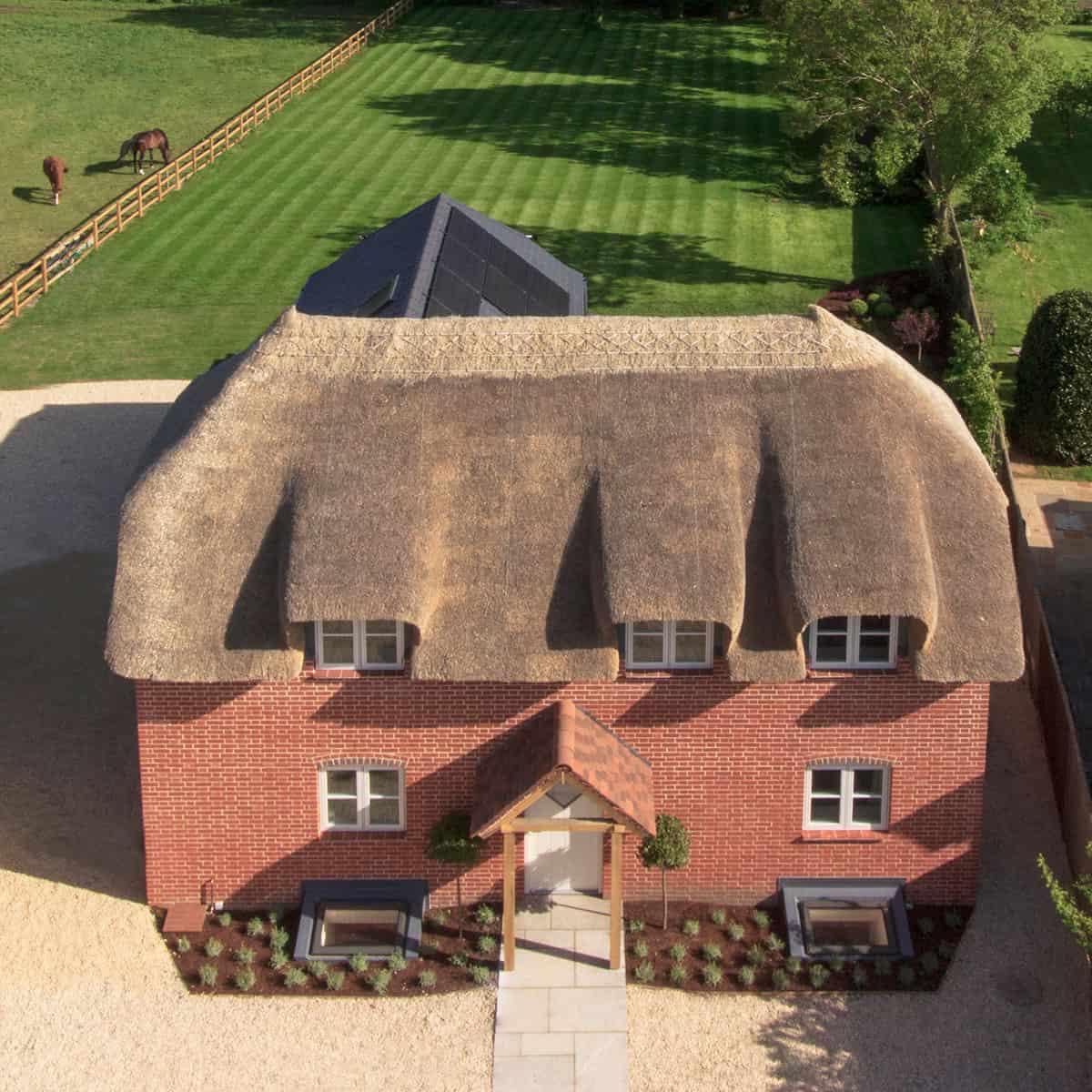 Greencore Construction built Marsh Baldon as a speculative build which was sold on completion to a private buyer.
Ian Pritchett, managing director of Greencore Construction is well known in building conservation circles. He is a builder who has written and lectured extensively in association with SPAB, the Society for Protection of Ancient Buildings. Ian is dedicated to the development of lime-based building products and sustainable building solutions, and transferring these materials from the world of historical buildings to the new build sector. The process of building in hemp/lime has been used in the UK for more than 12 years, but very few houses have been constructed so far using this material in panel form. "Historically the material has been cast on site," he explains, "but with the British weather, it causes constant drying problems, so we manufacture the hemp/lime panels offsite in our factory. This speeds up the build process – our buildings can be wind and water-tight within a matter of days, excluding foundations."
Greencore's aim is simply to build modern, comfortable, healthy homes to Passivhaus energy efficiency standards. "We believe in only using high performance, natural building materials, so that the homes we build have the least amount of impact on the environment. Using natural materials means we can 'lock in' the carbon to the building," continues Ian.
"Rationel's timber windows are key to what we achieve. Their energy efficient timber windows, with good u values and great prices, tick all the boxes. They enabled us to deliver an open plan building which makes the most of natural light, whilst benefiting from exemplary sound insulation to deliver a spacious and elegant living space."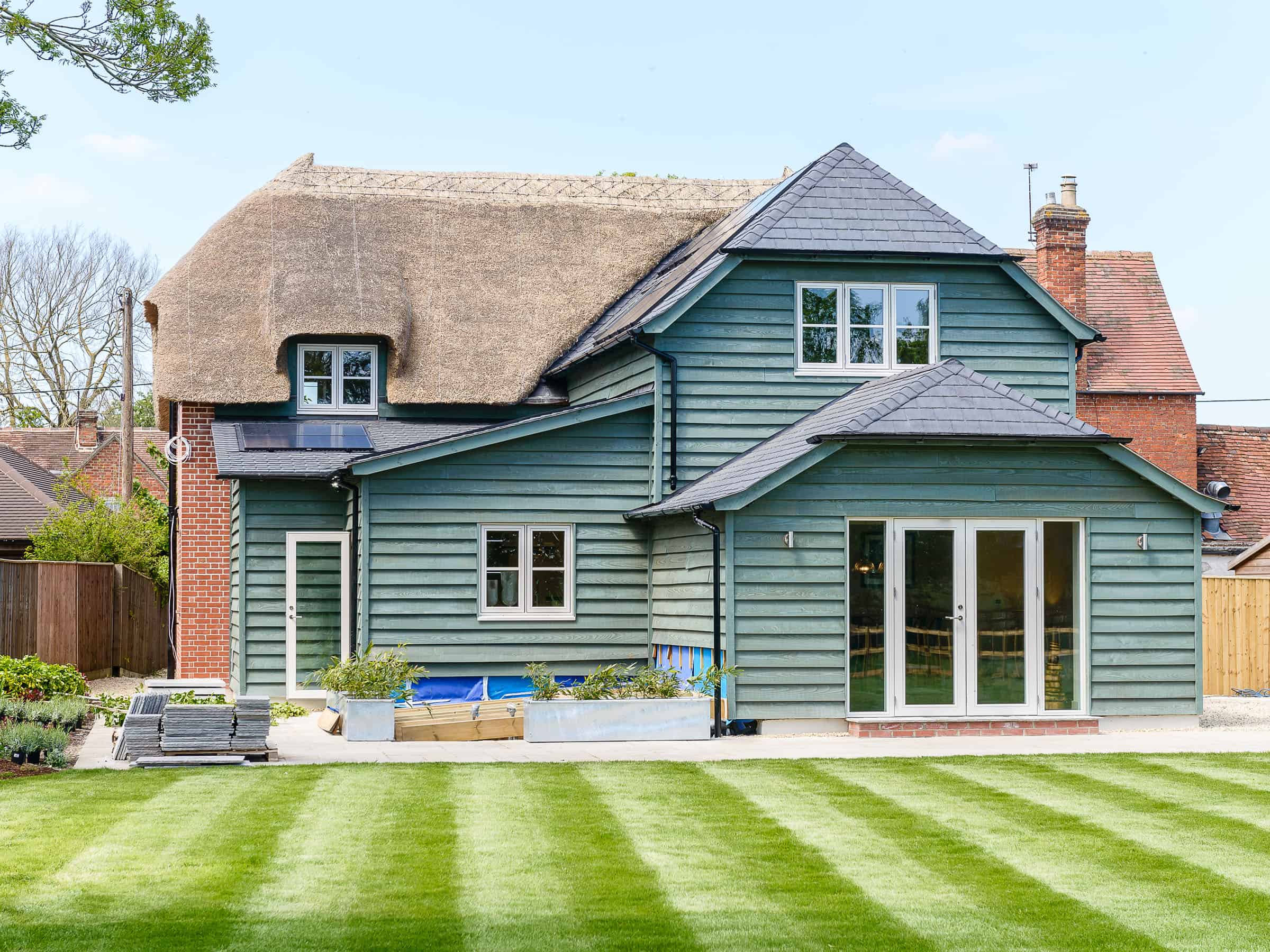 Ian specified Rationel's Aura and Aura Plus products for this building. Aura windows are made entirely from timber – combining a beautiful natural look, with a clean contemporary design for modern buildings and Passivhaus. Rationel Aura ensures that high levels of daylight and solar heat gain are achieved. The slim elegant frames of Auraplus are made from timber with external aluminium cladding to give added weather protection and to extend life in use.
The Aura range can achieve 0.78W/m2K u values, +20.8W/m2K WER, a 42dB Rw sound reduction and 60 years life expectancy. Adding the aluminium cladding of Aura Plus increases life expectancy to 83 years.
With the hemp lime panelled walls combined with energy efficient Danish windows, the results speak for themselves. This house achieved Level 4 in the Code for Sustainable Homes.
Be inspired by our case stories