If you're looking for some simple energy saving solutions, we're here to help. Whether you refurbish or build from new, here are 5 steps you can take to optimise your building:
Placing on site
Building shape
Window placement, amount & type
Solar shading
Window installation
When designing new builds it is easier to create larger reductions on energy demands compared to existing buildings, due to the advantage of choosing your orientation on site.
The energy demand for low-energy buildings can fluctuate as much as 100%, depending on how a building is situated. North facing facades require optimum insulation, whereas South, East & Western faces should maximise free solar heat from the sun.
Compact building designs are best for minimising heat loss: with less surface area of the building exposed, there is less opportunity for heat to escape. This is also expressed as 'linear transmission loss' and is usually seen where two components of materials are joined. The fewer the joints and structural elements, the less linear transmission loss per metre and therefore lower heating demands.
3. Window placement, amount & type
The best window solution differs, depending on which façade units will be located. Consider function, perception of daylight, shading and possible heat gain.
For windows facing East, West or South, utilising solar heat is a top priority, in technical terms optimising the g-value. North-facing windows should focus on insulation, as this orientation offers only a very limited heat contribution from the sun. In other words, it is best to focus on the U-value.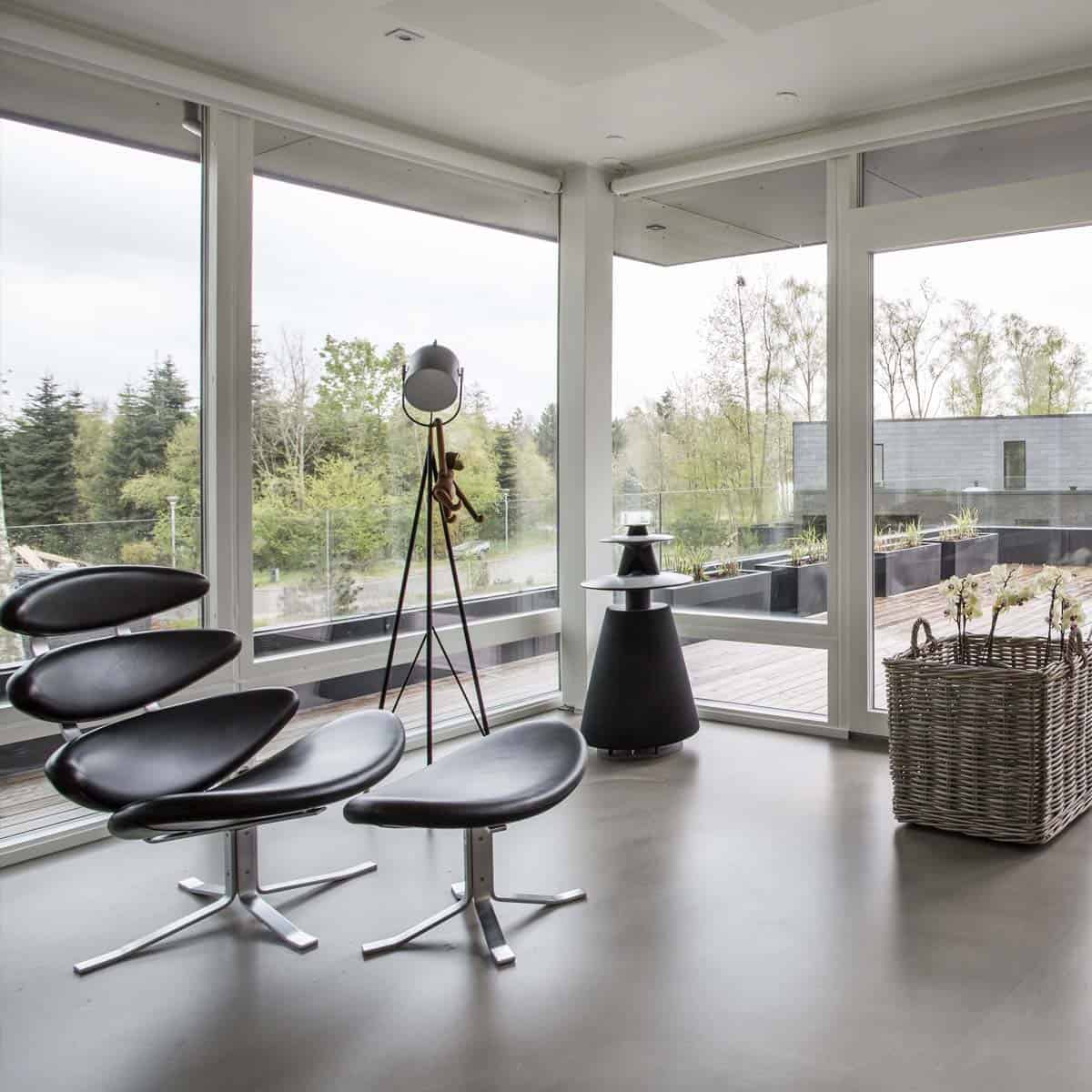 If the façade faces North or is fully shaded with limited sunlight, maximum insulation is important to prevent heat loss. This means that the windows should have as low a U-value as possible. We offer triple-glazed windows with U-values down to 0.79. From an overall energy point of view it can be a good solution to place large windows facing north. This would ensure a healthy indoor climate and lowers the risk of overheating, which can occur on the southern façade.
The most important role of South-facing façades is to utilise the available solar energy to heat up the house. Choose modern double or triple-glazed energy windows with a lower U-value and a high g-value, to make use of the free solar heat. Naturally, as South-facing façades receive the most sun light there is a possibility of overheating, particularly in Summer months. This is easily avoided by using solar shading such as external sun blinds and roller blinds.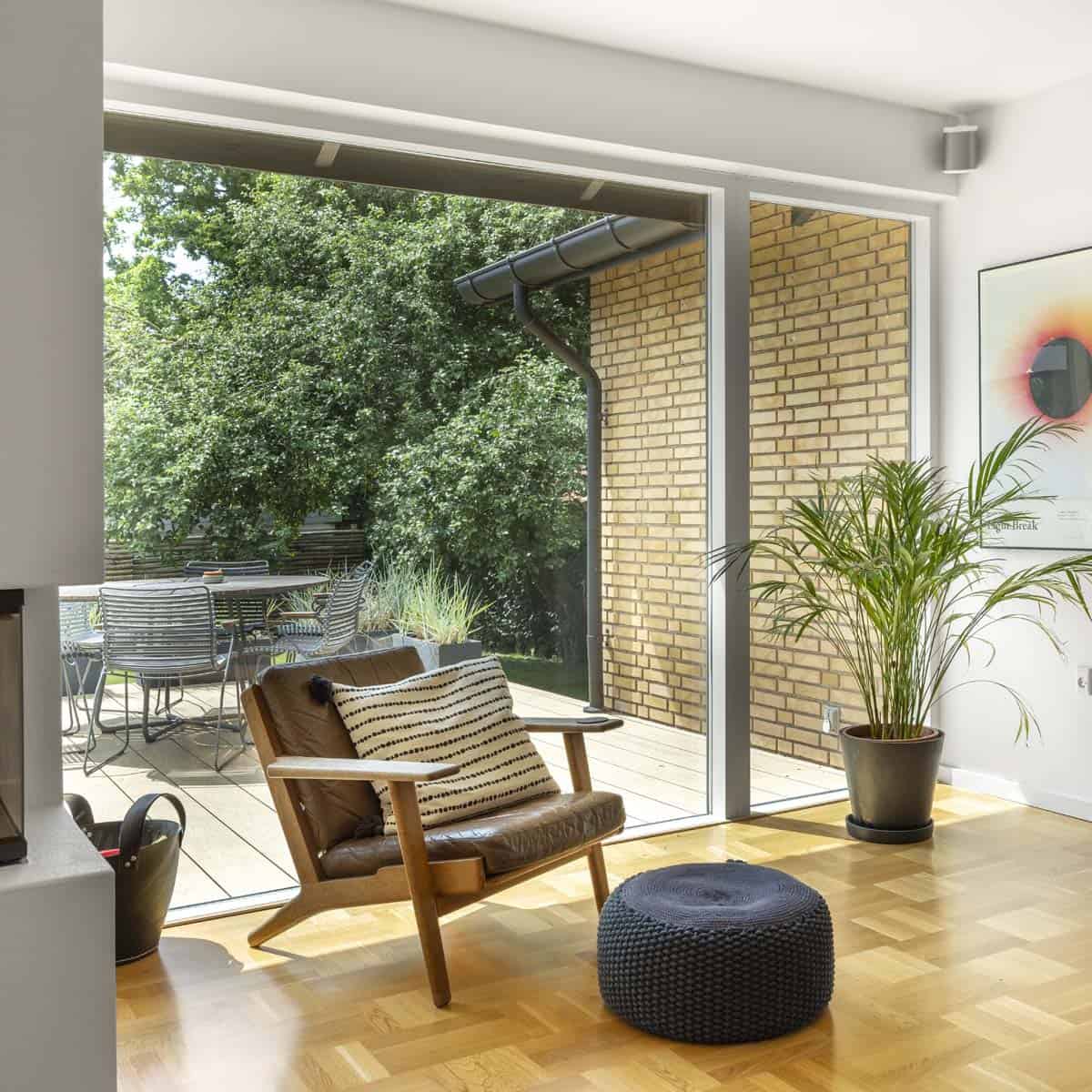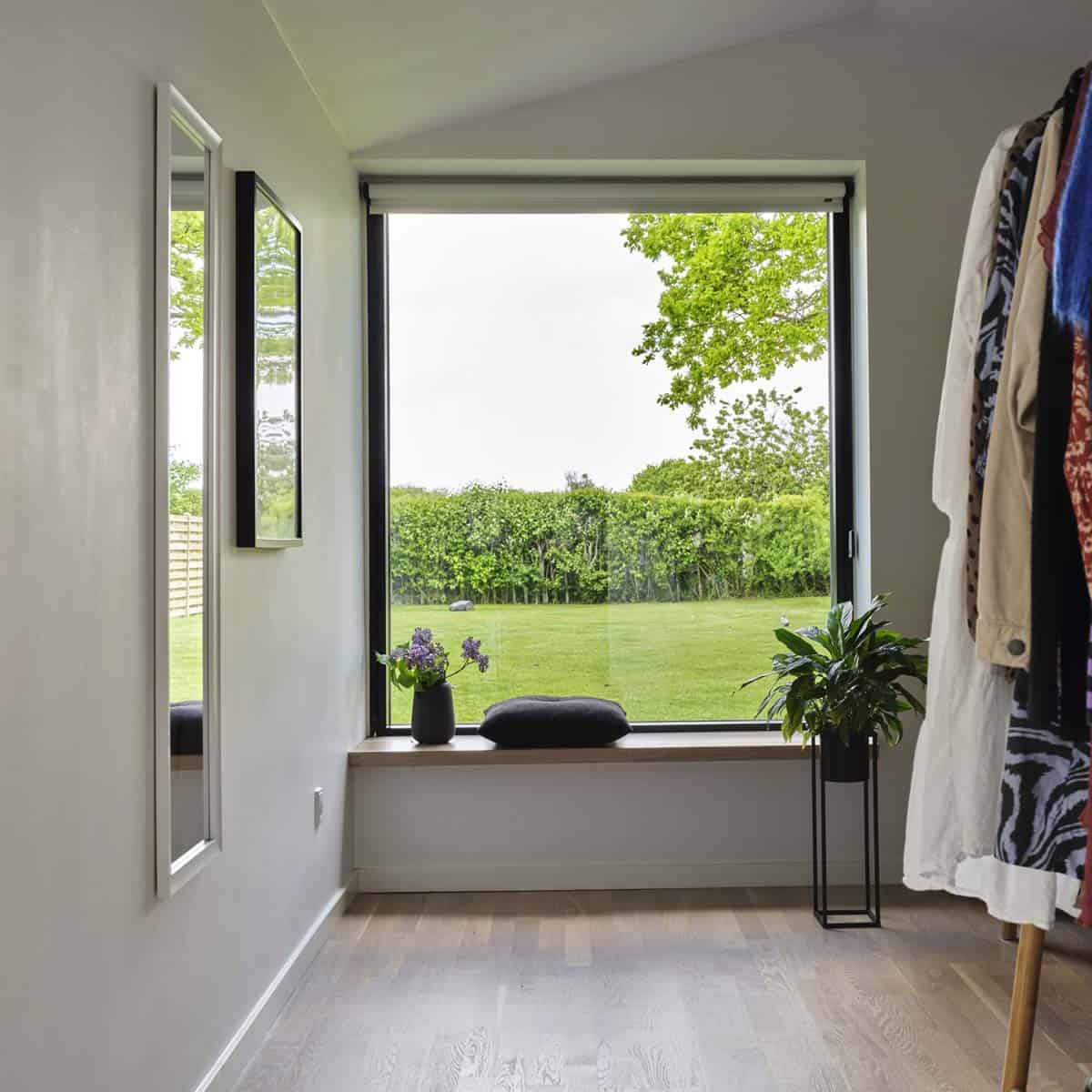 The sun mainly contributes solar heat during the morning and afternoon. Choose modern double or triple-glazed energy windows with a lower U-value and a high g-value to make use of the free solar heat. Be careful with large windows looking East and West, as they are also susceptible to overheating. Solar shading should be provided by screens or vertically oriented shading to achieve the best results.
Best energy results are achieved by choosing windows that are optimised to let in daylight and solar heat, with as little heat loss as possible, combined with active solar shading.
Developments in glass technology mean it is possible to have large spans of uninterrupted glazing, ideal for framing views or creating clean, contemporary designs. Large areas of glass often require a form of solar shading to prevent overheating of rooms during long exposure to sunlight.
Blinds are a cost effective and convenient solution, though more extensive methods such as automated solar shading can be beneficial: if activated overnight automated solar shading can also decrease heat loss. These systems can also be programmed to shade at certain times, for instance during daytime in Summer months.
In low-energy buildings you can save up to 25% on the heating bills when the window installation is executed correctly.
The lowest linear transmission loss is achieved by placing the window in line with the insulation and by optimising the insulation towards the inner bores.
Be aware that by placing the window towards the outer wall both the heat gain and daylight contribution through the window will be increased. With thicker walls that come with low-energy buildings more attention on the installation detail is required. As well as the benefits of optimised heat gain and daylight, placement towards the outer façade enables the residents to utilise the window sills.
If you're after more advice on simple ways to optimise your building, just get in touch.